Want a fake diploma to look extra real?
Do you want your fake diploma to look extra real? There is a way to turn your phony diploma into an eye appealing diploma that will shock and amaze your friends, family, or make your co-workers jealous! :)
Now, the truth is, if you successfully graduated from a respectable college or university and a spent countless number of hours studying for each and every class and preparing yourself for every single test including midterms and essays... and of course, spent thousands upon thousands of dollars in tuition payments, you know that any diploma you actually earned would mean everything to you! You would hang that brand new diploma on your wall with the utmost pride!
You wouldn't put your brand new diploma in a cheap diploma frame from Wal-Mart or Big Lots, you'd invest in a nice well-made decorative frame worth a good amount of money. Your new diploma means too much and it's too important for anything short of the best. Now, although Diploma Company stocks a line of nice looking diploma frames that do the trick, we recommend having your fake diploma mated from a professional framing company and investing in a top of the line document frame worth anywhere from $150 to $300, to give your brand new fake diploma an overall presentation that will wow those who pass by.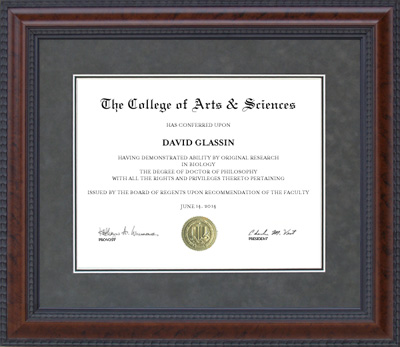 The samples of diplomas shown above are 100% fake and are not replications of actual diplomas. Do not use these samples as a guide line when purchasing fake diplomas. For more information on buying high quality diploma frames, please visit:
fake diploma, diploma, realistic diploma, diplomas, online diplomas, online degree, fake high school diplomas, fake high school diploma, high school diploma